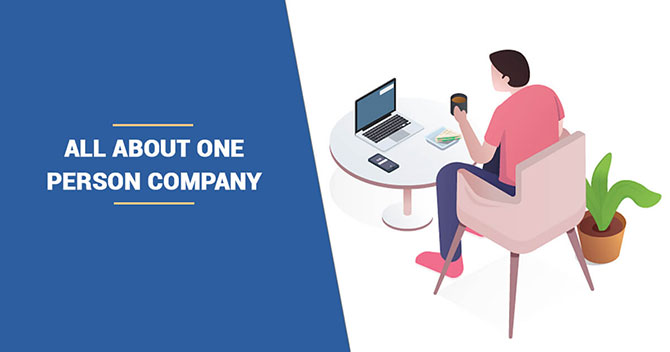 What is One Person Company?
A One Person Company Registration (OPC) is a business formed by a single person. According to the Companies Act of 2013, a person can start a company with one member and one director. Both the director and the member could be the same individual. Thus, a one-person company means that one person, who could be a resident or an NRI, can incorporate their Company, which has the characteristics of a company and the advantages of a sole proprietorship. 
Unlike a private business, this corporation form has relatively few compliance responsibilities. Business Buddy Solutions offers one-person company registration in Lucknow, India. You can put your faith in our company and enjoy it because our dedicated team never leaves a task unfinished and will complete your registration within your budget and timeline.
Advantages Of OPC
Legal status 
The OPC receives a separate legal entity status from the member. The separate legal entity of the OPC gives protection to the single individual who has incorporated it. The member's liability is limited to their shares, and they are not personally liable for the loss of the Company. Thus, the creditors can sue the OPC, not the member or director.
Easy incorporation 
It is simple to incorporate OPC because just one person and one nominee are necessary. The member might also be the director. The minimum authorized share capital for incorporating OPC is Rs.1 lakh, although no minimum paid-up capital is required. As a result, it is simpler to integrate than other types of companies.
Easy to obtain funds 
Because OPC is a private company, it is simple to raise funds from venture capitalists, angel investors, incubators, and other sources. Financial institutions and banks prefer to lend to corporations rather than sole proprietorships. As a result, obtaining funds becomes simple.
Easy to manage 
The OPC can be established and controlled by a single person. It is simple to manage its operations. Making decisions is simple, and the decision-making process is rapid. The member can readily pass regular and special resolutions by entering them into the minute book and signing them. As a result, managing and running the Company is simple because there will be no disagreements or delays.
Perpetual succession 
Even if there is just one member, the OPC has the characteristic of perpetual succession. The single member must appoint a nominee while incorporating the OPC. When a member dies, the nominee takes over as Head of the Company.
Employee Attraction:
Talented people prefer to work for a corporation rather than a partnership or sole proprietorship. Employee stock options can help a company retain excellent staff. Employees of reputable companies can easily obtain loans from banks at low-interest rates.
Fewer compliances 
The Companies Act of 2013 exempts the OPC from some compliance requirements. The OPC is not required to generate the statement of cash flow. The company secretary is not mandated to sign the accounts books or annual returns.
Easy Exit Option:
The Company's member can quickly leave the Company by signing a Share Transfer Form. Members of Listed Companies can readily sell their shares on the Stock Exchange. In Private Limited Companies, ownership is changed simply by completing Share Transfer forms and transferring shares.
Documents Required for OPC Company Registration
Director & Nominee Documents
Nominee & Directors PAN

Nominee & Directors ID Proofs
Aadhaar Card, or Passport, Driver's License, or Voter ID 
Nominee & Directors Address Proofs:
Most recent one month's Savings Bank statement or

Recent Telephone Bill in his own name or

Recent Moblie Bill on his name or

Most recently, Bill in his own name.
Directors' most recent passport-sized photos

Directors' email addresses

Directors' mobile phone numbers linked to their Aadhar card.

In the case of foreign directors, an international passport is required.
Documents of the Company
Proof of Registered Office Address: Most Recent Power Bill

The landlord has issued a statement of no objection.

If the premises are rented, the landlord will provide a rental agreement.

Email address for the Company.
Why Business Buddy Solutions?
No Hidden Charges:
We believe in honest and transparent pricing. The listed price is the price you pay. There are no extra charges to register your Company.
Speedy Service:
You can register your new business name application in less than 5 minutes, and your Company will generally be fully registered in 3-5 days.
Years of Experience:
Our team has years of experience, and we are professionals in our business. Take the worry out of starting a business by knowing you'll get the support you need to succeed.
Trusted Service:
Today's clients demand nothing less than the best. That is why 99% of our clients rank us as "Great" or "Excellent" on Google.
Simplicity:
The whole procedure, from buying to using your company registration license, is designed to be as simple and straightforward as possible to assist you in growing your business.
Privacy & Security:
The whole procedure, from buying to using your One Person Company Registration license, is designed to be as simple and straightforward as possible to assist you in growing your business.